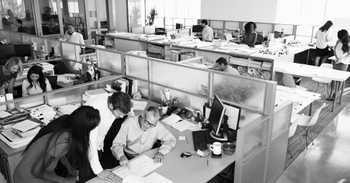 Workplace violence is typically defined as an act or threat of physical violence, intimidation, or other threatening behavior that takes place in the nexus of a work environment. It can take many forms – from overt acts of violence to more "hidden" incidents like bullying or sexual harassment – but companies that take steps to understand how and why these incidents occur may begin to identify their vulnerabilities and develop comprehensive mitigation plans. These plans can help to reduce both the risk and the impact to employees, customers, and assets.
Understanding the Scope and Impact of Workplace Violence
In monetary terms, the numbers are similarly staggering. OSHA estimates that workplace violence results in 1.2 million missed workdays each year, translating to more than $55 million in lost wages. The resulting lost productivity, legal expenses, property damage, diminished public image and increased security costs companies billions.
While the full impact of a workplace violence incident may differ across industries and depend on the severity of the incident, in almost any case, a reactionary measure is more expensive than a preemptive, preparative one. The good news is that there are proactive steps that employers can take to protect their employees, customers, and associates.
Learning to Recognize Workplace Violence
Acts of workplace violence are most commonly categorized based on the perpetrator's intent and affiliation with the organization.
Criminal Intent: In this scenario, the attacker has no apparent relationship to the organization or assets. This type of workplace violence typically includes some element of theft, but not always.
Customer / Client: A customer or client attacks staff workers. The most common targets for this type of violence are healthcare workers, school teachers, social workers, and public transportation operators.
Employee on Employee: An employee attacks coworkers. In instances of employee-on-employee workplace violence, managers and supervisors are at a greater risk of being victims.
Personal Relationship: This type of workplace violence typically entails domestic violence that finds its way into the workplace. The victim employee has a personal relationship with the perpetrator of the violence.
Companies can note that the modern definition of workplace violence does not limit itself to employees; it also includes the physical safety of customers, clients, and associates. Similarly, the "workplace" may not be limited to just a business' own physical facilities; companies whose employees sometimes travel or work remotely must be prepared to address incidents of workplace violence that take place offsite, such as at a client's office or at a training event. Across all sectors and threat levels, companies creating a mitigation plan to prevent workplace violence could carefully consider all elements of when, where, and how their employees might be conducting work-related actions.
It is also important to note that certain behaviors can be considered "workplace violence" even if they do not result in immediate physical violence, and employers could learn to recognize potential risk factors and violence accelerators that may signal danger.
The FBI's Behavioral Analysis Unit lists potential risk factors that include:
History of Violence
Childhood Exposure to Violence
Substance Abuse
Personality Disturbance or Disorder
Severe Mental Illness
History of Suicidality
Firearm or Edged Weapons Possession
Explosives Possession
History of Stalking, Harassing, Threatening or Menacing Behavior
History of Non-Compliance with Limits and Boundaries
Negative Family Dynamics and Support System
Isolation
It is also worth noting that certain sectors and types of businesses tend to face higher rates of workplace violence (OSHA), including:
Businesses whose employees regularly exchange money with customers or clients
Businesses that operate at night or in areas with high crime rates
Organizations whose employees work in small teams or isolated areas, where there may be limited witnesses
Organizations operating in healthcare or law enforcement sectors
Other factors that can result in a higher likelihood of workplace violence are:
A lack of adequate reporting and investigating systems within Human Resources
A lack of employee training for threat identification
A lack of interdepartmental collaboration and alignment, particularly between Human Resources and Security Departments
It is no easy task to understand the mindset of a potential active shooter or attacker, and great care must be taken to not label individuals as potential attackers simply because one or two factors are observed. However, most attacks don't come out of the blue, and attackers often do display concerning outward behaviors. Awareness of potential indicators and the subsequent implementation of an action plan to de-escalate potentially violent situations are integral elements of a workplace violence prevention strategy.
Establishing and Communicating a Comprehensive Workplace Violence Program
Once an organization has taken steps to understand the complexities of workplace violence, it can create proactive policies and plans to combat it. A comprehensive mitigation plan should include not only the appropriate reactive measures but robust proactive measures that should be in place before an incident occurs.
Making Workplace Violence Prevention a Part of the Culture
The most effective way to prevent workplace violence is to integrate avoidance of violence into the company's existing culture of safety, with the tone set by leadership. Companies should encourage employees to understand that they all have a stake in the protection of their fellow workers, property, and business assets, and empower employees to be knowledgeable about what concerns to report, and how.
Clearly written policies and procedures, and incentives for following them, can help successfully embed workplace violence prevention into the organization's existing culture. Among these policies and procedures, it is important for employees to know how to recognize an incident, and have clarity around the reporting structure. Studies and sources suggest that more than one channel of reporting, including anonymous hotlines, formal complaints, and "whistleblower" protections, encourage more employees to report harmful behavior. Streamlining and clearly establishing reporting channels go a long way in combating workplace violence, and preparing for higher-risk scenarios like hostile terminations.
Risk & Security Assessment
A risk and security assessment includes all measures a company will need to adjust their environment to promote safety and security before an incident takes place. This typically includes an assessment of physical security vulnerabilities such as lighting, doors and locks, and control measures. Companies that have an accurate gauge of their risk profile and vulnerabilities before an incident takes place will be able to respond to crises much more effectively.
Security Awareness & Education Training Program
Based on their culture and unique risk profile, every company should have a comprehensive, step-by-step emergency action plan that clearly outlines roles and responsibilities, including procedures to assess the situation rapidly and establish communication with internal and external stakeholders. The education program should cover the organizations' reporting policies and procedures.
Additionally, emergency plans should be updated and stress-tested regularly. Companies would be prudent to select a team that performs well under pressure, and regularly train them to ensure there is no confusion over roles and responsibilities.
A well-established and communicated plan can help companies mobilize quickly and effectively, and avoid poor execution, injuries, panic, misinformation, and credibility loss.
In the course of operations, companies will encounter situations that will require them to adopt part proactive and part reactive measures, such as threats that are specific to a workforce or work site. In such instances, companies can establish a Threat Assessment Management Team to identify the threat, gather information and interview people who are connected to the perpetrator and victims of harmful behavior, and provide recommendations for a mitigation strategy. These teams are generally comprised of members of leadership, a human resources executive, security, risk and legal counsel, and external partners including security experts, mental health professionals, and law enforcement.
Fostering a Company Culture That Does Not Tolerate Workplace Violence
A policy for addressing workplace violence is a must for any company – but a strong company culture that supports and implements the policy can help to minimize the likelihood that a company will need to enforce that policy.
To help foster a positive corporate culture that actively deters workplace violence, employers should first ensure employees feel safe and supported in their workplace. Employees should understand exactly what kind of workplace they are entitled to – namely, one in which they do not feel threatened in any way – and should feel empowered to report challenges that they encounter without fear that reporting will reflect poorly on them. Even relatively simple safety measures like improving parking lot lighting, offering self-defense classes, and investigating claims quickly and effectively can go a long way towards fostering a safe work environment.
Workplace violence costs lives, impacts morale, reduces productivity, disrupts business continuity, endangers corporate reputation, and carries significant financial implications – but it can be minimized by companies that address it proactively. By taking the appropriate steps to understand and mitigate the risk of workplace violence, companies can significantly improve the safety of their employees, their customers, and their operations.
Sources for further reading:
Lowers & Associates, "The Impact of Workplace Violence"
Behavioral Analysis Unit, "Making Prevention a Reality: Identifying, Assessing and Managing the Threat of Targeted Attacks"
Published October 22, 2019