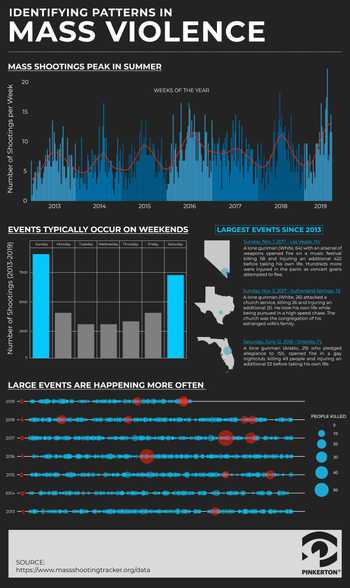 Mass shootings in America are becoming increasingly common. Although the violent crime on average has gone down since its peak in 1993, deadly mass shootings in public spaces – schools, churches, outdoor gatherings – have increased over the last 20 years. Large events, defined as any event with 10 or more casualties, have become particularly frequent, with nine major incidents occurring within the past two years.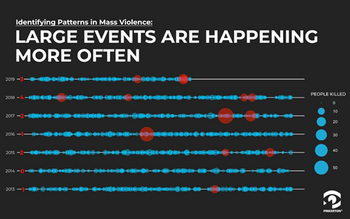 Summer is the riskiest season
Our recent analysis of aggregate mass shooting data between 2013 and 2019 revealed striking patterns. Mass shootings were found to occur most often during summer months, peaking in July and August. They were also twice as likely to occur on weekends. By way of example, the three deadliest US shootings since 2013 all occurred on weekends. Our analysis indicates that Sundays in August were the most common days for mass shootings to take place in the United States.
What are the reasons behind the seasonal increase in mass shootings? Academic research on the seasonality of crime consistently finds upswings in violent crime during warmer months, and this holds true for mass shootings. One potential explanation is the increased use of public spaces in the summer.
Common traits in shooters
In addition to seasonality predictions, there also exist common characteristics among gun violence perpetrators that can help in identifying potential mass shooters. A recent FBI study found that the vast majority of mass shooters are white men between 18 and 50 years of age. One third of the assailants had a criminal record, over one third were unemployed, and one quarter had a verified diagnosis of mental illness.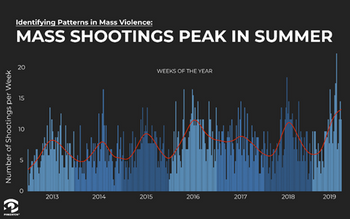 Another factor that many perpetrators share is copycat phenomenon in which the attacker is motivated to emulate other publicized shooting incidents. The 1999 Columbine High School shooting plays a particularly unique role in this, having been the first school shooting where the perpetrators wrote manifestos that were then circulated on the Internet. Its believed that due to this, several shooters in the early 2000s cited Columbine as their inspiration.
Unfortunately, Columbine's legacy lives on today. As recently as April 2019, many Colorado schools were shut down during the search for an 18-year-old woman from Florida who had traveled to Colorado and purchased a shotgun on the week of the 20th anniversary of the tragedy. Earlier that summer, community members put forth a proposal to tear down the school building, arguing that it posed the risk of inspiring copycat attacks.
Copycat shooters are a growing concern. In August 2019, two deadly shootings in El Paso, Texas and Dayton, Ohio took place within 13 hours of each other. The Dayton shooter had an active social media presence and was aware of the prior incident that had occurred in Texas. In the weeks following these tragic events, reports indicate that other potential shooters had messaged their friends or posted on social media that they hoped to one-up previous shootings.
As the nation grapples with an increase in mass shootings and debates ways to address the problem, it remains important to study the circumstances that surround such incidents. By surveying common factors, relationships, and warning signs, we may help to create a more informed and vigilant public, while also offering our insights to policy makers, authorities, and private citizens tasked with confronting this grave danger to public and private spaces in America. As the evidence shows, it is increasingly imperative that organizations include active shooter preparedness as part of their overall risk management plan.
Published October 09, 2019