At Pinkerton, our risk assessments are granular and backed by experienced risk advisors, frontier data science, machine learning technology, and global consistency, just a few reasons why our risk assessments are being considered an industry standard.
Whether you are updating your security plans, assessing your organization's risk, or conducting risk assessments as part of a compliance requirement, Pinkerton will identify threats, vulnerabilities, and gaps within your existing security procedures and provide recommendations to mitigate risk and keep you and your employees safe.
About our approach to risk assessments
Our risk assessments take a total risk perspective to assess your organization's risk profile. This approach allows us to assess your risk profile from a macro to micro level.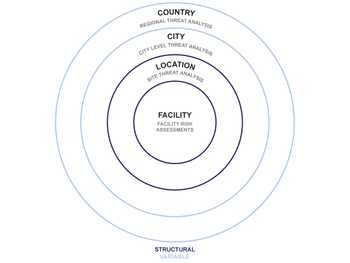 Structural risks (macro)
Considers the threat environment relevant to the organization, including but not limited to natural disasters, crime, specific location-based threats, and more. Structural risks are uncontrollable but can be mitigated with security and risk management measures once they occur. Learn more about Threat Analysis.
Variable risks (micro)
Considers risks and threats that can be controlled and influenced by internal decision-making. Variable risks are more predictable and controllable than structural risks. They can be mitigated by adequately implementing controls and measures.
About our risk assessments
Site vulnerability assessments
At Pinkerton, we take a comprehensive approach to risk assessments. We gauge your variable and structural risks. We start with your structural risk assessments, powered by the Pinkerton Crime Index, which forecasts crime at a street level with 93% accuracy. We then identify and assess your variable risks and vulnerabilities to your facility, which may include entryway security, people with access to your facility, employee preservation, and more. Our Site Vulnerability Assessments assess gaps between policies, procedures, and practices at the site, regional or enterprise-level.
Program assessments
After looking into relevant threats and vulnerabilities, our team identifies security gaps within existing policies and programs. This can include workplace violence prevention programs, lock and key, mail and package handling, on-boarding and off-boarding personnel, crisis management, travel security, guard force management, and more. In the assessment, we review documented policies and procedures and interview stakeholders.
Bespoke and specialty assessments
Specialty Assessments are those that require a specific scope of subject matter knowledge and security requirements such as hospitals, ports, or critical infrastructure. These assessments may also be conducted to address specific threats or risks for areas such as special events, supply chains, or hazardous environments.
Recommendations
During this stage, our specialists provide recommendations, as per the industry's best practices, to mitigate risk in the future for facilities and programs. This roadmap can include recommendations for developing your security program, awareness training, establishing security procedures, etc.
As a next step, Pinkerton Risk Advisors can design and help to implement comprehensive risk and security programs for organizations around the globe. Learn more about Enterprise Security Risk Management.