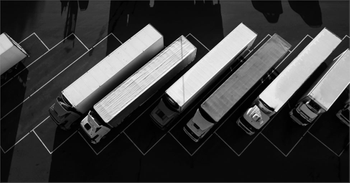 It's one of the frustrating ironies of a strong and increasingly interconnected global marketplace: growing demand for transportation and logistics services has outpaced the supply of capable and experienced truck drivers.
This shortage is more than just a blip on the radar screen. The New York Times recently reported that the industry is facing a shortfall of approximately 50,000 drivers. The inability to meet growing demand is creating bottlenecks and driving up prices. While demographic and sociocultural reasons have contributed, regulatory changes and the mobile technology to strictly enforce new driver time restrictions have also played a significant role.
The risk of fewer truckers? Higher budgets
In North America, where trucks are responsible for moving 71 percent of the nation's freight by weight (representing 81.5 percent of gross freight revenues), the implications of the shortage of drivers extend well beyond inefficiency and inconvenience. Freight carriers have responded by charging higher rates, and those cost increases invariably and inevitably ripple throughout the supply chain.
According to Jason Porter, Vice President of Deployable Assets for Pinkerton, businesses and consumers alike are bearing the brunt of that cost spike. He says ground shipping infrastructure is particularly sensitive to disruptions given the fact that most manufacturers have moved to a "just-in-time" inventory model—a more efficient and cost-effective approach, but one that leaves an entire ecosystem of interdependent businesses disproportionately vulnerable to outsized impacts from a single adverse event.
With that in mind, and with driver shortages showing no sign of easing anytime soon, transportation and logistics providers—and the brands and businesses that rely on them—are recognizing that efficiency is more critical than ever.
Reduced standards raise safety concerns
Consider the practical downstream implications of a driver shortage. According to Porter, companies trying to tighten their belts and cut costs sometimes cut corners as well. For instance, from a hiring standpoint, this may mean organizations not following proper vetting processes and protocols in order to get much-needed bodies on the road. If someone with a history of theft slips through the hiring cracks, it could put your products at risk.
"Compliance failures and poor documentation, damaged goods, theft, and grift all tend to rise when streamlined processes begin to stutter and stack up," Porter says. "With fewer drivers available, cross-docking facilities and warehouses fill with more product, and more product leads to more exposure to the previously mentioned threats."
There is a saying in the shipping business, "freight at rest means freight at risk." It's generally easier to steal from a freight yard or warehouse than a manufacturing facility or moving vehicle, and those areas are consequently more at risk. As a result, physical security levels at these facilities require careful and regular examination and assessment to ensure best practices are being employed.
Auditing and compliance
Physical security is just one piece of the puzzle, however. Every company with a stake in a strong and secure supply chain needs to make sure their supply chain audit and compliance programs maintain the highest possible standards.
Many of the biggest national and international brands rely on such programs, proactively monitoring their network of vendor partners across the country and around the world. The best of these programs gather critical data and consistently track and visualize that data, ensuring that every change (including things like changes in risk profile for specific areas and new regulatory developments) can be considered. One of the leading programs, the Customs Trade Partnership Against Terrorism (CTPAT), was designed for the U.S. Customs and Border Protection agency using Pinkerton's input. 
The best risk management specialists are flexible in their efforts and can scale as needed. They can serve in an advisory role with the capability to offer insight when needed, or they can work behind-the-scenes with clients to run their entire supply chain audit and compliance programs. Regardless of the type of engagement, proactive supply chain monitoring allows you to make more informed and strategic decisions in real time—responding to new and emerging information in a way that minimizes any negative impact and prioritizes operational continuity.
Data driven
The current truck driver shortage highlights the importance of data collection and analysis in the shipping industry. That begins with granular, detailed, and timely data. It's data that allows you to adapt and evolve on the fly, making calculated decisions about routes and scheduling. From GPS tracking to geo-fencing, there are plenty of ways to make sure shipments are on-route and on time, but strategic route planning and scheduling remains the most effective and vital.
Tools are available that allow you to plot routes around potentially dangerous areas. But a state of the art program such as "Applied Risk Science" enables you to go deeper: to weigh a wide range of variables and make sound decisions about travel time versus acceptable levels of risk. Some of that comes down to unique providers, what they are transporting, and a range of complex variables and individual circumstances. For instance, a company may elect to send a truckload of plastic trinkets through a high-crime area, but reroute a truckload of smartphones and bite the bullet of additional expense that comes with an extra day's worth of delivery time.
Ultimately, however, the challenge is to do more with the data available to you. Leading risk management professionals are leveraging GPS, inventory tracking systems, traffic reports, crime stats, and myriad other variables in ways that make it possible to calculate risk, evaluate the true business impact of different scenarios, and ultimately make smarter and more strategic business decisions.
Published October 27, 2018