Over the last decade, supply chain complexity has become the norm as organizations have manufacturing, suppliers, and end-users spread across the globe, increasing the challenges organizations face when trying to protect their assets.
Pinkerton can help protect your business continuity by improving supply chain risk management — especially for importers and exporters, transportation organizations, shippers, freight forwarders, and start-up global logistics firms.
Expertise for navigating global supply chain risks
Our expertise and experience with supply chain risk management can provide the support you need to evaluate your vulnerabilities along the supply chain and ensure the safe transport of goods to and from multiple locations. We have a network of offices and resources throughout North and South America, Europe, Asia, and Australia. Our global reach will help you navigate the various languages, business practices, cultures, and customs that play a role in managing your supply chain risks no matter where you go.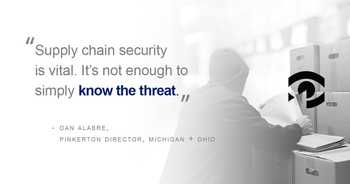 The Pinkerton Difference
Supply chain security doesn't always refer to just the transportation of products — it also includes production methods, raw material sources, and more. With so many areas of risk, a threat to one area of production could adversely affect business continuity — potentially impacting your company's bottom line and brand reputation.
For more than 170 years, organizations have come to Pinkerton for supply chain security. From the early days of the U.S. interstate railroads and the masked hold-up men, we've been there to help organizations protect their business operations and secure their supply chains.
When you partner with us, we provide a range of protection, advisory, and investigative services to best serve your unique needs. Whether it is assessing your risks, designing mitigation strategies, or deploying agents to protect your assets, we can assist you end-to-end.
The next step for supply chain protection
Need more information on how our supply chain solution can work for you? Fill out the form below to have us contact you. 
---
Blog — Developing Supply Chain Resilience
For business leaders and decision-makers, adapting to the reality of a newly fragile and fragmented supply chain is critically important. That begins by getting a better understanding of the scale and scope of the problem and developing strategies for supply chain resilience.
---
Blog — Supply Chains and Staffing
Staffing has become a very complex area across all industries. Businesses may have warehouses full of supplies, but they may not have enough qualified essential employees. How can organizations adapt to this new supply chain staffing reality?
---
Taking the next step to long-term solutions
Supply chain intelligence analysts
Logistics and supply chain security managers
Investigators
Protection teams