Centered on the concept of taking a holistic approach to understanding and mitigating non-insurable business risks.
---
Based on Big Data analysis and advanced machine learning analytics the Pinkerton Risk Index draws from over 80 accredited sources. The Risk Index provides security and risk management professionals with a tool to assess the probability of threats impacting business operations by leveraging the following formula:Risk = Threat x Probability x Business Impact
The information in the risk index is aggregated into combined indices that provide relative global rankings in accordance with the standard deviations for risk used in Risk Management. These rankings are aligned with the four quadrants and corresponding nodes and sub-nodes represented within Pinkerton's Risk Wheel (PRW).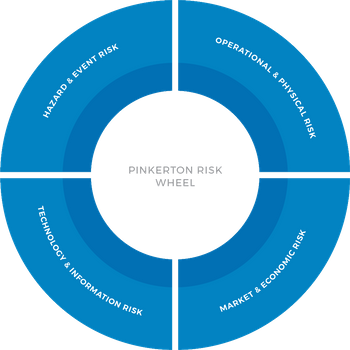 The Pinkerton Risk Wheel and major nodes by quadrant.
Pinkerton's methodology utilizes the most recent data available to calculate figures for each category, resulting in reports that are as relevant as possible. 
Reports are available on demand and can be delivered on a singular (individual country) or comparative basis (multiple countries) and include not only data but rich intelligence and insights to assist users in interpreting the findings.
Download Full Briefing
Published November 01, 2017