The current outbreak of Coronavirus is fast approaching pandemic levels. Instances of the virus have spread globally. Nevertheless, the majority of cases and deaths have occurred in China. Aggressive containment efforts have left over 700 million people in lockdown. Airline traffic has ground to a stand-still, and production in many factories has stopped. The economic consequences within China have been stark.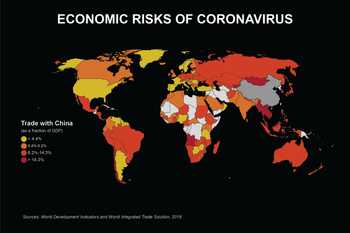 While the drastic slowdown observed in China over the last month could play out in other countries as the disease spreads, a secondary impact is all but certain. This occurs through linkages with trading partners around the world. These leakages foster economic contagion through two channels.
First, as the manufacturing hub of the global economy, China plays a pivotal role in the supply chain in many major companies. By one estimate, over 90 percent of Fortune 1000 companies have tier-1 or tier-2 suppliers located in China. These dependencies will be costly, if not impossible, to adjust in the short-term.
Second, due to Chinas large role in the global economy now comprising almost 20 percent of global GDP the fall in demand from Chinese consumers could spawn economic decline in exporting countries around the world. With both channels operating together, the global economic consequences of the current slowdown in China could be large.
The risk that a trade shock originating in China will cause major economic disruptions in another country depends on the magnitude of Chinese trade relative to the overall size of a countrys economy. Combining the importance of trade and the importance of China for a countrys trade gives a single measure of a countrys susceptibility to economic contagion.
The following document uses economic data to quantify the varying susceptibility of Chinas trade partners to the economic impacts from the Coronavirus spread within China.
Download Full Briefing
Published February 27, 2020