Organized retail crime poses a growing challenge for the industry, with annual industry losses nearing $100 billion, according to the National Retail Federation. These crimes are far from isolated shoplifting incidents. They involve sophisticated operations by criminal organizations that systematically steal large quantities of goods and profit from those goods through reselling.
With the SAFE-T Act and similar legislation shaping guardianship decisions, organizations need to prepare comprehensive plans to defer theft and crime.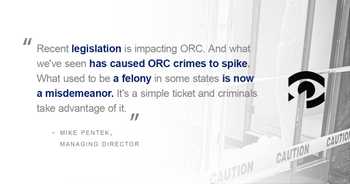 Pinkerton solutions to mitigate organized retail crime (ORC) risk
Our expertise and experience in organized retail crime can provide you with the support you need to not only investigate crime in your stores and along your supply chain but also mitigate the impact on profitability, operations, and business continuity.
Investigations
Evidence collection and management, including via online marketplaces and social media
Identify and track organized criminal networks
Surveillance
Cargo theft and product recovery
Threat assessments and management programs to monitor localized threats
Collaboration with law enforcement
SCOUT Investigative Reports — due diligence for theft and fraud
Advisory and security management
Risk and vulnerability assessments
Risk and security advisory for trends, emerging threats, and best practices, including crime prevention through environmental design (CPTED)
Program design and implementation
Protection and response
Asset protection
Cargo security/high value asset escort
Ad-hoc and permanent protection teams for people and property
AI-powered products
Pinkerton Crime Index for the U.S., Canada, Mexico, U.K., and Australia to monitor crime patterns and seasonality to support guardianship decision-making
---
Protect your organization
Safeguard your business against organized retail crime. Our comprehensive services provide the expertise, strategies, and protection you need to safeguard your organization against ORC. Contact us today to discuss how Pinkerton's ORC solutions can help mitigate risks, enhance security, and protect your bottom line.
---
The next step for long-term ORC solutions
Intelligence analysts
Risk & security managers
ORC risk advisors
ORC program managers
Investigators
Logistics & supply chain security managers
---
Blog — Tackling the Surge of Organized Retail Crime: A 2023 Perspective
---
Blog — Investigating Organized Retail Crime and Theft
Rising organized retail crime and theft highlights the critical need for effective investigations strategies to prevent and combat this business risk.
---
Blog — Retailers Respond to Organized Retail Crime and Theft