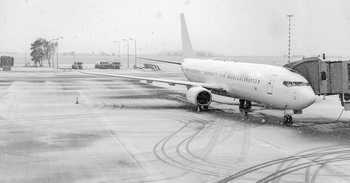 Holiday travel can be challenging. From long lines and crowded airports to busy highways, it can test your patience and up your stress level.
But getting where you need to be over the holidays can be much more than just a seasonal hassle or temporary inconvenience. It can also present very real and potentially significant safety and security risks—especially for executives and high-net-worth individuals. 
With more than 100 million people traveling over the November-December holiday season—a number that has increased by 25 percent since 2005—opportunities for incidents abound this time of year. Criminals thrive in an atmosphere where there are multiple distractions, frustration levels are high, and people lower their level of situational awareness. Reports of personal larceny alone are about 22% higher in December compared to other months of the year.
Whether you're headed to a tropical resort for some well-deserved R&R, or just headed home to spend time with family, here are some tried-and-true holiday travel tips and best practices to help you navigate a tricky travel landscape while monitoring your belongings and keeping you and your family safe and secure.
Stay Calm
Criminals are experts at recognizing circumstances where situational awareness has decreased and take advantage of those times to lift your wallet, phone or other valuables. From lost luggage to delayed flights, it's all too easy to get frustrated and distracted. But it's important not to get upset and don't make a scene. Doing so can draw unwanted attention, cause you to lose focus and compromise your defense mechanisms. Increase your chances of a hassle-free travel experience with a little strategic and proactive planning. Avoid traveling on the busiest travel days of the year and avoid the crowds by traveling during off-hours as much as possible. Get to the airport or train station early so you aren't rushed.
Limit Public Wi-Fi
As convenient as it might seem, curb prolonged connections to public Wi-Fi with phones or other mobile devices. Connecting to public Wi-Fi can put your data and personal information at risk because most public networks are not secure and leave you open to attack. Make sure your phone and other mobile devices are not set to automatically connect to those networks, and consider beefing up your data plan to avoid having to rely on Wi-Fi. Investing a few extra dollars in a higher-capacity data plan is a small price to pay for peace of mind and increased data security.
Burner Phones
Consider purchasing a temporary "burner" phone loaded up with 50 – 100 minutes of call time. An emergency phone could be a life-saver should your primary phone get lost or stolen—particularly if you're traveling abroad and need to notify friends or family. Executives and others in positions of responsibility or authority need to be especially vigilant. A stolen phone can be more than an inconvenience if contacts, emails and other vital information are exposed, potentially putting a company and/or its employees at risk. With a burner, a quick call to IT or the cell carrier can have a stolen phone deactivated within moments.
Do Your Homework
Study your destination carefully. Whether you're traveling domestically or abroad, research the area and understand common threats. Is your destination at a higher-than-usual risk for pickpocketing? Kidnappings? Credit card fraud? Research crime trends and take the proper precautions. Make sure you go beyond the headlines to gather information about specific neighborhoods and types of threats. For example, FBI data on violent crimes reveals that Los Angeles, Chicago, Baltimore, Las Vegas and New York were all listed among of the most dangerous vacation destinations in 2017. Yet three of those cities are also among the most popular travel spots. Knowing what neighborhoods and practices to avoid can ensure that you don't become a statistic.
Social Media Can Wait
As tempting as it might be to share your vacation and holiday photos online, avoid posting trip plans or photos until you return home (and make sure your family members do the same). Posting travel photos or revealing itineraries on social media can give bad actors the cue of when and how to take advantage of you and/or your unguarded home.
Stay Vigilant
Planning and preparation is important, but there is no substitute for situational awareness. Don't let your guard down just because you are traveling for personal reasons, and not business. Trust your gut: if something doesn't feel right—it probably isn't. Trust your senses. Identify exits and have an escape plan ready to go. Remember: there's no need to be afraid—just alert and reasonably aware of your surroundings.
Holiday travel can be taxing. But if you can be prepared, vigilant, and calm—while following a few basic best practices, safety protocols and simple precautions—you'll get to where you're going with a minimum of risk, and maximize your chances of enjoying a safe and celebratory holiday season.Are you planning to travel this holiday season? Contact Pinkerton today to learn more about our Protection Services—including Residential Protection & Security Services, International Executive Protection Services and Executive Security Drivers
Published November 14, 2018