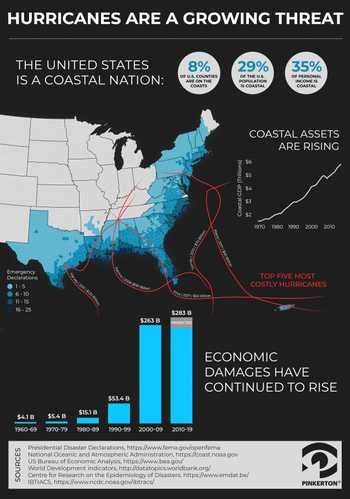 As population and economic centers continue to grow along Americas coasts, so does the impact hurricanes can have. Pinkerton has evaluated the economic damage hurricanes have had since 1960. Each decade saw increased damage but hurricanes during the past 19 years have resulted in seven times the damage of the past 40 years. The rise in damages reflects more people and assets at risk in coastal communities.
For the 2019 season, the Colorado State University Tropical Meteorological Project predicts that twelve named storms will emerge, including six hurricanes and two that will reach major hurricane status. Many scientists project that both the frequency and intensity of major hurricanes will increase over the next several decades. In addition to direct damages, factors including workforce instability, power outages,supply chain disruptions, and other infrastructural problems can severely impact business recovery and prosperity after a hurricane. Lost market shareresulting from a major storm is an example of non-insurable loss that businesses can guard against with a soundhurricane risk mitigation plan.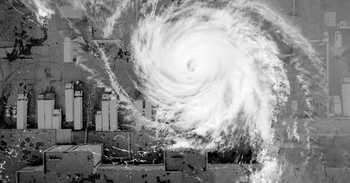 The National Oceanic & Atmospheric Administration indicates that the U.S. has been hit with 246 natural disasters that cost more than a billion dollars each since 1980. The top five years in terms of the frequency of billion dollar events have all occurred since 2008. Due to the cost three hurricanes - Harvey, Irma and Maria, 2017 ranks first amongst the most costly years. This trio caused damages totaling $268 billion, and comprised more than 30 percent of the damage since 1980. As the above data suggests, the severity and impact of extreme weather - and hurricanes in particular - is increasing.
In spite of recent, costly storms, many companies have no plan or lag behind in revising an existing plan to reflect current conditions. Damages from hurricanes are never limited to immediate impact from winds and flooding, and can present diverse, long-term risks to business continuity. To address these risks, its important for executives and boards of directors to bring a comprehensive approach to contingency planning and emergency response.
How prepared is your company for this hurricane season?
2019 hurricane season has kicked off, which means that there are a host of short and long-term risks that companies need to address, regardless of their levels of preparedness. Understanding the interconnectivity of risk can be helpful in developing effective, workable plans and tactical guidance for short-term risks, as well as beginning to address some of the longer-term risks.
For example, damage to facilities and infrastructure from flooding and heavy winds is the most obvious short-term risk from a hurricane. However, this damage can translate further into un-anticipated levels of disruption in communications and broadband infrastructure, leaving companies unable to communicate with employees and ensure their safety. Blackouts, looting of unprotected assets, inability to acquire and deliver supplies, and disruption to regular business cycles are other short-term vulnerabilities that can catch companies off-guard.
Some companies that suffered losses in recent years have taken steps to avoid a repeat of the negative impacts. To avoid or mitigate similar problems, consider taking the following operational actions to address the immediate risks:
Set up a monitoring dashboard to track hurricanes a dedicated system that will continuously refresh to provide real-time data
Prepare basic evacuation protocols establish communications with employees across multiple channels and post protocols in public areas of the business; conduct training sessions to reinforce the safety plan
Purchase sandbags and plywood for flooding and wind protection, and a supply of 5-gallon buckets for interior leaks before the first storm forms
Stockpile water and non-perishable food in air tight containers there shouldbe ample amounts to provide for basic needs for anyone remaining onsite when evacuation is not possible, as well as supplies that can be delivered to employees impacted by the storm
Arrange for a weeks supply of gasoline that can be used for generators and to fuel vehicles
Ensure that any onsite data storage has a back-up system at an alternate location that can be activated readily to avoid any system downtime or loss of critical data
Determine a process for data collection before, during and after the hurricane to make a stronger case for insurance claims
Bringing a comprehensive approach to long-term planning
The simple reality is that companies of all sizes tend to wait until the first named hurricane of the season is announced to begin preparing for the possibility of a storm causing disruptions to their business.
Despite the lessons of Katrina, more recent hurricanes such as Maria that devastated Puerto Rico and flattened most of its basic infrastructure continue to expose the danger of lack of preparedness. Many companies that did not anticipate the extent to which infrastructure would be damaged were facing problems that ranged from struggling to upkeep generators to inability to communicate with employees not to mention the unforeseen economic challenges in the company's efforts to get its operations up and running, such as inability to process insurance claims.
For the longer-term, businesses with assets in areas in the path of hurricanes need to consider a wide range of potential vulnerabilities that can impact business continuity. Starting now and continuing beyond the hurricane season, companies should be actively assessing the following considerations when developing a comprehensive contingency plan:
Understanding which facilities that have the highest risk of exposure to hurricanes, and how those facilities connect with other corporate functions
Evaluating supply chain vulnerabilities and alternative sources for goods and services
Setting timelines and mapping alternate routes for evacuations and deployment of resources
Investing in resources to communicate with personnel once traditional channels shut down
Establishing physical site security plans once an evacuation is ordered, including both personnel and video monitoring capabilities during a storm
No matter your current level of preparedness, now is the time to address immediate vulnerabilities and begin establishing long-term, comprehensive contingency plans.
Published August 26, 2019