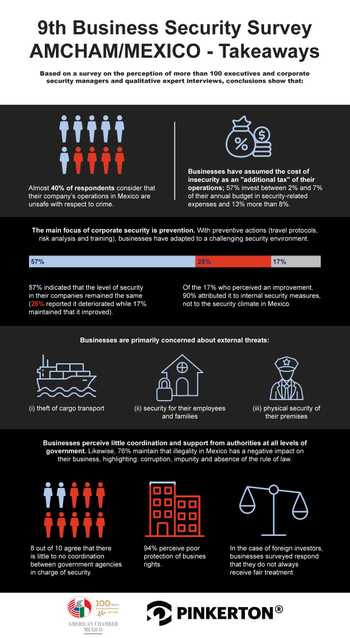 "We cannot normalize the high violence and high crime rates in Mexico. We have become familiar with these conditions, and that should not be normal," stated Carlos Lopez-Portillo, Pinkerton Managing Director for Latin America and security advisor for the American Chamber of Commerce Mexico (AmCham) 9th Business Security Survey released in June 2022.
The Business Security Survey compiled information based on the perspectives and experiences of more than 100 executives and security experts of foreign and domestic organizations operating throughout Mexico to promptly and effectively address public security challenges.
The results confirmed trends observed in previous years: prevention remains a priority for corporate security while businesses reiterate their commitment to operating in Mexico despite assuming the costs of insecurity as an additional "tax." The survey also revealed that organizations are primarily concerned about external threats, such as supply chain theft, extortion, and physical security for their employees and families.
Based on the survey's results and analysis, AmCham's security committee presented a series of recommendations for government authorities and businesses, emphasizing that security is a critical element of business competitiveness and that a safe environment is an attractive environment for investment.
"As we transform the business landscape, transnational companies, and mainly American companies, have to understand the context and challenges they will face in the country in order to invest their security budget smartly," Lopez-Portillo stated.
Published October 12, 2022