From enterprise-wide to the site-level, having an effective security risk management program is vital. Framing risk in a business context and avoiding inaction can provide restorative risk mitigation that meets your corporate objectives. When you partner with Pinkerton, our risk advisors consult closely with your company to deliver a dedicated and comprehensive approach to risk management. We focus on protecting your assets and addressing risk so you can make informed decisions while navigating the complexity of a global landscape. 
How We Can Help
While risk assessments can take a snapshot look at your company and provide much needed information, it is equally important to have someone who knows and understands the specific needs of your company and the unique culture of each facility. Our risk advisors focus on learning your business and understanding your risk profile, using the risk wheel below, to offer detailed and customized solutions to potential threats.
Our risk assessments are granular and backed by experienced risk advisors, modern technology, broad data, and a global consistency. Whether you are updating your security plans, assessing your organization's risk, or conducting assessments as part of a regulatory requirement, we can assess, design, and deliver plans to keep you and your employees safe.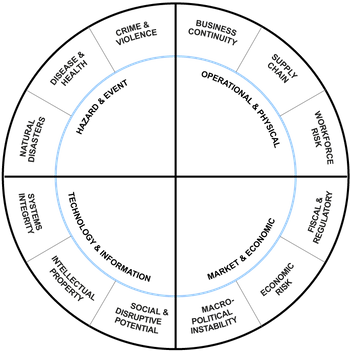 About Our Enterprise Security Risk Management Solutions
Our enterprise risk management solutions help you reduce exposure to risk and vulnerability. We partner with you, providing a dedicated management approach focused on protecting enterprise concerns. We often interact with local managers daily and senior management on a quarterly or semi-annual basis to:
Provide an ESRM framework to drive standards 
Develop an appropriate security program tailored to your needs
Ensure procedures are in line with goals 
Offer guided training and evaluation of risk management strategies and approaches
Set criteria for employee development 
Analyze operations and provide meaningful metrics 
Provide customized consulting, such as complete program reviews, multi-location audits, and security risk assessments
Deliver corporate security management and expertise as a managed service, such as enterprise-wide analysis, senior-level security leadership, and local security risk advisory