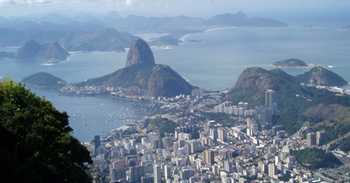 The Zika virus has garnered a lot of attention and headlines as a major risk facing people traveling next month to the Summer Olympics in Rio, Brazil. However, two of our "in-country" Pinkertons note in this post that there are several other hidden safety and security risks your company's employees/executives should be aware of while attending the games.
Funding Deficit Affects Police Force
"Perhaps the most alarming safety risk you will face is that the Rio police force may not be available to help you if you're in trouble, " says David Rotger, a Pinkerton Director in Latin America. Funding shortages to complete the venues and infrastructure in time for the games has meant pulling money from other operations, including security. "I've been told that some on the police force will only get about half of their expected salaries during July and maybe August as well. 
That's a concern for a number of reasons. First, morale will be low. It was already going to be hard work to secure the Games. Now, they don't know if they will be fully paid for it. Second, many might opt to take private security jobs temporarily, reducing the overall security force. That's a big problem." Roger also noted that several security people have indicated that the Rio force is only well equipped to handle the "first ring" of security – high profile venues, common gathering areas and VIP arrivals/departures from the Games. 
"My concern is that if there are two incidents occurring simultaneously, there simply won't be enough personnel and equipment to handle it. That puts people at risk." While Army, Federal and other police forces have been called in to help with the Games, this is still a risk of which visitors need to be aware.
Unlikely Criminals
"Unfortunately, children are used often by gangs to perpetrate street robberies, " says Tatiana Scatena, Pinkerton's Managing Director in Brazil. "They are recruited at an early age and forced to steal from unsuspecting targets, especially tourists." With the tens of thousands of visitors, the Olympics are expected to attract, this type of activity will be increased. "Minors can move quickly and, because they are not seen as threats by visitors, they can approach mostly undetected. Once they've stolen a wallet, purse or phone, they can rapidly disappear into crowds." The gang members may try to create a diversion so, we recommend that visitors be very wary of unusual happenings that might distract them and that they keep belongings out of the easy reach of small hands!
Watch Your Back
One of the most common crimes taking place internationally is ATM robberies. "Unfortunately, in Rio de Janeiro, criminals have gotten very aggressive with it, " reports Scatena. The easiest form of this crime is when a criminal secretly watches you when entering your ATM personal identification number (PIN). They will then approach you, demand your wallet and make a beeline to the nearest ATMs to withdraw the maximum amount they can before the card is shut down. The simple act of covering your hand while entering the number is a safety measure that deters many criminals from pursuing this further. It is also recommended that you know your bank's policy on this type of activity and whether they will refund any/all of the funds depleted. 
A far more dangerous, yet very prevalent, form of ATM robbery is express kidnapping. Criminals will search out foreigners who look to be wealthy and follow them, waiting for an appropriate moment to attack. The most common occurrence is victims that are abducted in their own vehicles. From there, the criminals will demand the person access ATM machines themselves, again withdrawing the maximum amount. They may even force their hostage to make calls to home so that more money can be transferred to now-empty accounts. Once they are satisfied they have gotten all they can, the best case scenario for the hostage is that he/she is released unharmed. 
This happens more often than not if the person has cooperated and not caused any concern about repercussions. "The criminals just want money; they do not want the additional risk of being incarcerated for kidnapping, assault or at the very worst, murder, " says Scatena. Our advice is always to be aware of your surroundings and pay attention to people/vehicles who seem to be near you for an unusual amount of time. Report anyone suspicious to authorities immediately.
Move Cautiously
Getting around Rio is a challenge any time of year. With more than 500, 000 people expected to visit the area for the Olympics, that challenge will be escalated greatly. "Many people will, perhaps unknowingly, choose high-risk forms of transportation since they can appear as easy ways to get to their destinations on time, " noted Scatena. Locals driving mini-vans are prevalent throughout the city. They will find people needing a ride and pick them up. However, these drivers will take you through the most high-risk parts of town simply because they know the routes and are mostly familiar with driving locals around the city. 
In general, any irregular cab could be operated by a criminal organization so avoid using them for any reason. We recommend using the official Olympic transportation system as a way to get to Olympic venues if you can. Do not, then, choose to drive yourself. This option is fraught with risks to your personal safety. First, you will draw attention to yourself as a foreigner driving a rental vehicle. Second, there is a very high chance you will get lost. The streets in Rio are hard to navigate during normal periods of the year; with the influx of people and vehicles for the Olympics, it will be much worse. Traffic patterns will change, streets will get blocked and even the best GPS will not know about the up-to-the-minute detours. "Most people who will drive themselves will rely too heavily on GPS, " says Scatena. "But Waze or Google Maps phone applications don't know what kind of neighborhoods they are sending you through, and neither will you until it's too late. We highly recommend people do not drive themselves. There are other options." 
The best option is hiring a car service that is registered and has been vetted as being reputable. If staying with an international hotel chain, they will likely have a good working relationship with reputable companies that value the hotel's business. Having one of these car services pick you up at the hotel and take you to the games is, in our experience, your safest method of getting around during an event like the Olympics. We also recommend you set up GPS tracking via your smart phone. Being able to find you through your phone is not something low-level criminals consider (or they would destroy your phone) so, activate this service through your cellular provider or a specialty application.
Information: The Biggest Weapon Against Risk
Nothing will be more important to Olympic attendee security and safety than information. Pinkerton's Global Risk Group has set up a command center throughout which information flows constantly, giving field personnel access to the latest risk situations throughout the region. "We are acting as their first line of defense, " says Rotger. "If a protest pops up, creating traffic issues, or an incident occurs that affects security, our command center will know about it and get the information out to our field personnel so they can act on it immediately." Pinkerton will also monitor all open-source information, such as web sites, media reports and social media, to discover areas of concern that should be avoided. "Twitter, for example, is such a fast way to find out if many people are being affected by the same thing, such as a street closure, a security breach or some other occurrence, " says Rotger. "Of course, we vet the information before sending it to the field, but it really does give us up-to-date reporting that we can use." Our teams in Brazil have found that, while the Rio region is fiercely proud to be hosting the games, there is a strong undercurrent attitude of "wait and see" around security issues. Rotger notes, "Many I've spoken with say it's not 'if' something is going to happen, but 'when.' While we don't share that pessimism, we do tell all our clients that being vigilantly aware of their surroundings and armed with information could be the biggest factor in whether they have a successful Games experience or not."
Published July 27, 2016