The India Risk Survey 2015 (IRS 2015), the annual flagship initiative of FICCI & Pinkerton, attempts to showcase the views and perceptions of key business leaders, public figures, as well as professionals across various sectors and geographies regarding operational, safety and strategic risks. The survey spreads across the entire industry spectrum covering different geographical zones of the country. The survey results aims to provide the industry and government decision-makers with a very important tool to holistically analyse the impact of various risks, so as to plan and execute strategies to prevent, mitigate or control the impact of these risks to business establishments. 
The results of the India Risk Survey 2015 aptly reflect the changes in risk spectrum that India has witnessed within the last year. While there is an overall sense of comfort owing to the recent political stability achieved at the Centre, the equally ardent need to deploy resources for handling corruption, information security and crime is evident as well. The recent set of economic projections depicting robust growth numbers for India have the potential for further improvement, with parallel positive steps being taken to better the business environment and aid the overall scenario. The report reiterates the need to have stability and continuity of policy regime and compliance to attract better investment in India.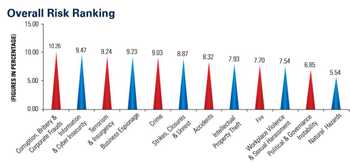 As evident, the survey encompasses 12 key risks that pose a threat to the entire economic system of the country; and though each risk is rated on a mutually exclusive basis for the purpose of the survey, a deeper reading would reveal their interconnectedness across domains.
Published April 02, 2015