Risk is unavoidable, but it can be assessed and managed with the right approach.
Today, it is not uncommon for companies to look at risk from a siloed and fragmented perspective — one that doesn't take in to account how all areas of risk are interconnected. Focusing on one component of risk without understanding the potential impact on the whole organization can lead to unintended consequences.
To navigate incoming threats, you need a total risk perspective to assess your organization's risk profile. Our total risk perspective is at the core of everything we do. It is designed to help you understand not only the different types of risk impacting your organization's value today, but what will most likely impact your organization tomorrow.
To do that, we employ the Risk Wheel framework. The wheel is divided into four quadrants, and each quadrant is divided into three subcategories, or nodes. Each node is further divided into relevant subnodes. These quadrants, while distinct, should be viewed holistically as threats categorized in one risk area ultimately can impact others. For example, one can view Hazard & Event risks as items likely to be more singular or incident related; however, these could clearly impact operations.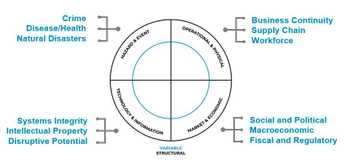 We not only design the strategy to move your organization away from risks you currently face in the marketplace, but we also operationalize it with from enterprise to site level tactical operations. We break down the dimensions of risk you face — from structural to variable, external to internal — to show your total risk perspective that informs strategic and tactical decisions that will support your business forward.
Using advanced data science, informed by our extensive and specialized expertise, we can measure your risk and identify what is impacting your company. We harmonize structural and variable risks to provide you a complete perspective. The result is a risk advisory approach that provides you a comprehensive risk profile with a total risk perspective, from which organizational objectives and decisions can be made.
RISK ADVISORY SERVICES
Risk Assessments
The risk landscape is ever changing. In order to stay ahead of rapidly changing threats it is essential to evaluate your risk profile against the causality of risk. We perform risk assessments to gauge the potential impact of risk to organizational objectives and vulnerabilities. Our risk assessment services are designed to provide you a portrait of your risk posture, so you can understand potential gaps and threats to your organizational objectives. Pinkerton risk assessments can be conducted at an enterprise level down to a site level, simple or complex, local to global.
An accurate and current understanding of your risk profile provides a competitive advantage and is foundational to designing the optimal risk management approach.
Learn how our risk assessment services can work for you
When Are Risk Assessments Used?
Compliance — As regulations evolve, it is critical that your company identifies the compliance risks and gaps in your organization. Risk assessments can address a myriad of areas and with our team, we can help address your structural and variable risks through our robust tactical operations support.
Duty of care — Risk assessments can help provide oversight into your organization and pinpoint areas where actions do not meet the standard of care.
Future risks — We can identify potential impacts from external and internal sources, such as natural disasters, supply chain, economic influence, cyber attacks and more.
Risk Index and Scoring
While risk assessments take a snapshot look at your risk profile to better address compliance, risk index and scoring helps you continuously monitor your risk. The indexes and scoring act as a predictor tool to establish baseline security programs and protocols, resulting in cohesive procedures for escalations. And with readily available reports and dashboards, you can prioritize your decisions based around our knowledge based design that has blended our 170 years of experience with innovative technology.
Our indexes use a statistical methodology that accurately predicts potential threats, so you can be sure that you are achieving your goals while mitigating risks throughout your enterprise. We offer dashboard access and reports that show your risk score, while also delving down into detail views so you can better understand your area.
Risk Index
Risks are not independent; they are interconnected. While risk management and security were once considered a silo within an organization, continuing to maintain that way of thinking can be detrimental. A data-driven approach to business risk is supported by strong, positive correlations between quadrants of risk. Statistical analysis has shown that an increase in business risk along one area produces an analogous increase in risk along others.
Our risk indexes provide a quantitative assessment of the most important business risks facing your organization, and for an estimated 200+ countries around the world. These customizable reports analyze risk based off the four quadrants of risk, including the subcategories, and provides graphics and insights into each area of risk so you can assess your potential business impacts.
Pinkerton Crime Index
Pinkerton has always been at the forefront of the forensic revolution — establishing the first criminal database, pioneering what is now the Secret Service, and more. As we blend our experience and expertise with data science to move towards new and advanced technologies, such as predictive analytics, we can forecast future crime risk.
We use machine learning algorithms that take crime data, a variety of slow-moving structural variables and fast-moving indicators of recent disruptions in order to forecast future crime. This index takes criminal elements within society and breaks down present and past risk for property and violent crime. We synthesize this information in reports, so you can see the crime index score and map for your area — but more importantly understand the correlation between crime and other areas of risk.
Supply Chain Index
A robust and reliable supply chain is a critical dimension of business operations that varies widely across countries. This area considers the most important factors affecting supply chain risk, including essential components of supply chain infrastructure and accompanying logistical services.
Our supply chain index uses the same methodology and construction as the risk index, but digs into transportation infrastructure, port infrastructure, efficiency of customs, logistical services, and depth of supplier market to give you a detailed apple-to-apples view of how your area ranks with others. This allows you to get the sense of where your most important risks are and where to focus your risk management strategy.
RELATED SERVICES
Need additional support to round out your risk management plan? Learn more about our related services and how they can help you.